There's no question that choosing a career is one of the most important decisions you'll ever make. For Ricardo Nunes Bastos, Director of Business Development at ONI, he knew that it had to be something he was passionate about.
Growing up in South Africa, Ricardo's parents instilled in him the value of education. They emphasized the importance of attending university and following opportunities when they appear. This motivated Ricardo to work hard at his studies, which landed him at the University of Porto in Portugal. But just as he was about to declare his intention to study architecture, he had an epiphany: this was not the route he wanted to take. Instead, he realized, biochemistry was where his passion lay.
"I love understanding how things work in the body. I'm fascinated with how cells change shape, how the body creates and breaks down its proteins to be able to deal with the environment it's exposed to. We all have the same proteins but yet we are all unique," he says.
With newfound determination, Ricardo changed his course of study, and credits that moment of clarity for setting him on a different path to success. He went on to get his undergraduate degree in biochemistry at the University of Porto, which led to a PhD in Biotechnology at the University of Helsinki. Ricardo chose his PhD in Finland at the time as he was fascinated with understanding protein secretion and wanted to see how proteins moved within tiny little yeast cells, however, studying them was a challenge. Helsinki was the ideal place to do this, as the institute had a state-of-the-art electron microscope center with great people and expertise. This gave him the unique experience of diving into the cell for the first time and seeing where different proteins accumulate.
Ricardo then moved to the UK to work at the University of Oxford, since he wanted to study how our cells divide. One of the things that fascinated him was how cells know when to divide. How do they orchestrate the distribution of their DNA and organelles? How do they know where to divide? These were all questions he wanted to ask and the lab of Prof. Francis Barr allowed him to explore. Ricardo was able to answer some of these questions by combining biochemistry tools and new fluorescence microscopes that would allow the fast imaging of these cells as they embark on the journey to divide.
"There are many ups and downs working in academia", he shares. "You are taught that you have to publish, you need to be a postdoc for some time, and then you open your own lab". Ricardo knew in his heart that this route wouldn't be something he wanted. What he did know was that he loved talking about science and trying to understand how our cells work. "I love explaining science to people, how it works, as well as helping them advance their research, and finding new ways of testing their ideas''. He explains that when the opportunity came up to interview with ONI, a new microscopy company, he took a chance, joining the sales team would give him the ideal platform to talk to scientists with different backgrounds, varied research focuses, and work with them to help tackle their research questions quicker.
It turns out, that was exactly what he needed. He fitted in perfectly, as each team at ONI—from scientists to software engineers to sales reps—aims to create and provide innovative technologies that empower researchers worldwide. From early on, Ricardo realized that his passion for science aligns very well with ONI's mission; to accelerate human discovery and fight disease, and drive super-resolution microscopy to novel frontiers for everyone to see and understand the microscopic details of life.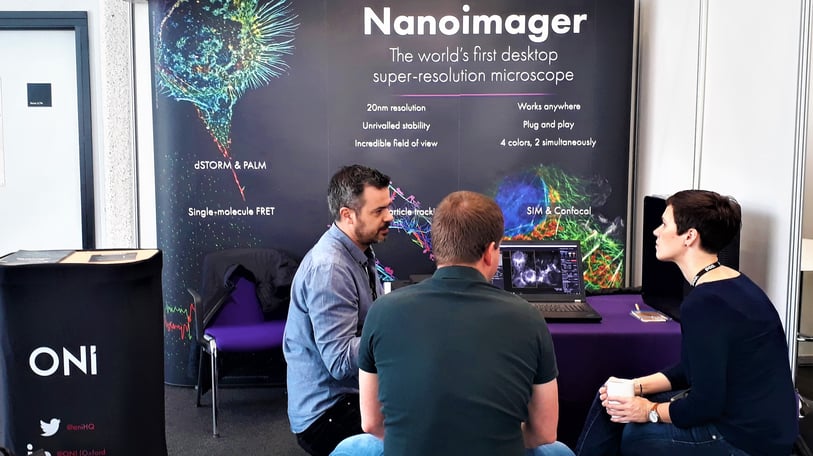 Ricardo loves being 'out in the field' discussing how ONI's tech can help scientists with their biological questions
Ricardo has held various roles during his tenure at ONI including Senior Application Scientist, Head of Sales and now leads ONI's growing Business Development team across the globe. Ricardo utilizes his deep insight from his years as an academic researcher to help develop new products and application verticals that exploit ONI's super resolution technology, to tackle the problems that keep customers up at night. He understands the pressure they are under to meet deadlines, and the constraints they often have to work within.
The transition from academia to industry is not always easy nor smooth. Impostor syndrome is often seen in a lot of industries but we rarely hear about it within the scientific community. And as Ricardo explains, this is something that needs to be better acknowledged.
"We are taught not to talk about our fears or doubts. We're supposed to be confident and decisive at all times, especially as scientists. But the reality is that doubt and insecurity are a normal part of the scientific process. So many of us are brainwashed by our peers to believe that if we are working outside of academia or in a prestigious university then we're not a 'real' success" he says. "As scientists, our job is to increase knowledge, to share the work we're doing with the community, in the hopes someone else can learn from it and take it one step further. At ONI, I'm reading more scientific papers than ever before, I'm talking to more scientists, I'm helping them find better solutions for challenges they are facing in their labs. And it's not just talking, together with our customers we are writing novel grants to help drive new research and use novel technologies to answer outstanding questions".
Ricardo is proof that scientists in a lab aren't the only ones who can make a difference. "I may not be at the bench, but my work at ONI is contributing to the community. It's my passion to enable all scientists independent of their background to be able to explore the beautiful world of microscopy," says Ricardo.
At ONI, we believe that people are our greatest asset. If you're looking to make an impact in the life sciences community, consider joining us on this journey as we unlock the hidden wonders of the microscopic world: https://oni.bio/careers/
Share this article: