Tell us about Jess outside of work...
I really enjoy being outside walking my dog Mylo. My role is office based which means that I do try and get outside as much as possible. In fact, if I'm ever not at my desk you'll probably see me sat outside on one of the lunch benches.
I am also continuing with my HR studies and I'm in the process of completing my CIPD Level 5, which I'm really enjoying.
What attracted you to join ONI?
I found the HR aspect of my A-Levels very interesting but decided that University wasn't for me. When I left college I started work in an IVF Clinic in an admin role, I really enjoyed being around inspirational people and learning every day. It was amazing to be really close to science and seeing amazing things happen right before my eyes.

HR had always been an interest and so I decided to study my CIPD Level 3 before joining a global market research company. When I heard about ONI it sounded like the perfect opportunity to combine my HR & scientific interests. In addition, there was also the appeal of working for a smaller organisation where I could see the impact of my work on a daily basis.
Can you describe Human Resources for people that aren't sure?
Well, a lot of people think it's about telling people what to do – but it's not. It's about developing relationships, ensuring that all employees have a path to succeed. At ONI it's about ensuring that all employees have the most positive experience during their time with us.
How does the role here compare to your previous organisation?
My role at ONI is much more personal. As we are smaller business, I get to have daily interaction with the entire team which is great. In my previous company I was part of a much larger HR Team which ultimately meant that I had less exposure.
Can you describe a typical day?
It's really varied. It could be a catch up with junior line manager who is unsure on a process or perhaps someone who needs help refining their objectives. One of my most important roles is to work closely with the Finance Team and make sure that everyone gets paid on time!
What are some of the key challenges?
Prior to joining ONI I didn't have as much direct interaction with the employees of the business. Initially this was new and slightly uncomfortable, however I have gained so much confidence since being here and it's now one of my favourite parts of the job.
What do you enjoy the most about working at ONI?
I am surrounded by such amazing people and I get to learn something new each day.
Interesting fact?
Sometimes I like to cook burgers & sausages on a make-shift BBQ (ceramic pot) which appears to be cracking under the pressure!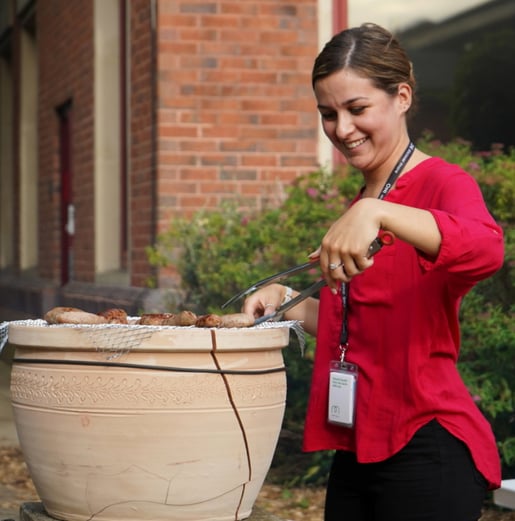 Follow us on Twitter!
Share this article: